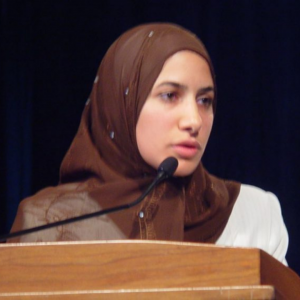 The MCC family is honored and excited to add Dr. Hadia Mubarak as a valued community resource of knowledge and leadership. As a resident scholar she will join Imam John in leading our community by way of advice, lectures and community activism. She has a positive energy and is a brilliant dynamic speaker with an interactive pedagogy.
Currently, Dr. Mubarak is an assistant professor of Religious Studies at Queens University, where she teaches courses on women and gender in Islam, Islam and Modernization and reading sacred texts. She previously served as a research fellow with the New York Abu Dhabi Research Institute in the Humanities (2017-2018), where she worked on her monograph, Debating Divine Intent: Women in Modern Qurʾanic Commentaries.Mubarak also taught as a lecturer in Religious Studies at the University of North Carolina at Charlotte (2015-2017) and a visiting lecturer at Davidson College (2015-2016).
Mubarak completed her Ph.D. in Islamic Studies from Georgetown University, where she specialized in modern and classical Qurʾanic exegesis, Islamic law, and gender reform in the modern Muslim world. She previously worked as a Senior Researcher at the Center for Muslim-Christian Understanding at Georgetown University and a researcher at the Gallup Organization's Center for Muslim Studies. Mubarak received her Master of Arts degree in Contemporary Arab Studies with a concentration in Women and Gender from Georgetown University in 2005. She received her Bachelor's degree in International Affairs and English from Florida State University in 2003.
Her publications include, among others, "Change Through Continuity: A Case Study of Q. 4:34 in Ibn ʿĀshūr'sAl-Taḥrīrwa-l-Tanwīr" (Journal of Qurʾanic Studies 20.1February 2018); "Breaking the Interpretive Monopoly: A Re-Examination of Verse 4:34" (Hawwa 2.3); "Crossroads," I Speak For Myself: American Women on Being Muslim (White Cloud Press, 2011), "Intersections: Modernity, Gender and Qurʾanic exegesis" (PhD Diss., Georgetown University, 2014), "Young and Muslim in Post 9/11 America" (The Brandywine Review of Faith & International Affairs Vol. 3, No. 2); The Politicization of Gender Reform: Islamists' discourse on repealing Article 340 of the Jordanian Penal Code (MA Thesis, Georgetown University, 2005); and "Blurring the Lines Between Faith and Culture" (America Now: Short Readings from Recent Periodicals. 5th ed.).